Find the perfect cycle route in Madrid that suits your bike
Top cycle routes in and around Madrid
---
Beyond the city borders
Madrid Río is also a useful starting point for longer cycle routes. Escape the city center by continuing on to the Anillo Verde, a green belt around the capital which is open to cyclists. Another cool route you can take from Madrid Río park takes you through Parque Tierno Galván and Parque Lineal Manzanares Sur, and from here all the way to the city of Getafe, just south of Madrid. The north end of the park connects to a cycle path which leads all the way to the town of Manzanares El Real in the mountains. Here, make sure you visit La Pedriza, a natural landscape characterized by expressive rock formations and caves.    
Featured routes beyond the city borders
---
City tour
The intrepid cyclist won't let a lack of perfect cycle infrastructure get in the way of sightseeing! Plaza de España with its impressive Cervantes monument and prominent skyscrapers is a good place to start. Take in the nearby Royal Palace and don't miss Plaza Mayor, the fanciest square in Madrid with its frescoes and wrought-iron balconies. Row a boat in Retiro Park, walk through seven centuries of European art at the Museo del Prado, and spend a Sunday morning shopping at El Rastro market. Top it all off with sangria and tapas at Plaza Santa Ana – but if you're going to do as the Spanish do, don't think of getting dinner before 10pm.
Featured routes in the city center
---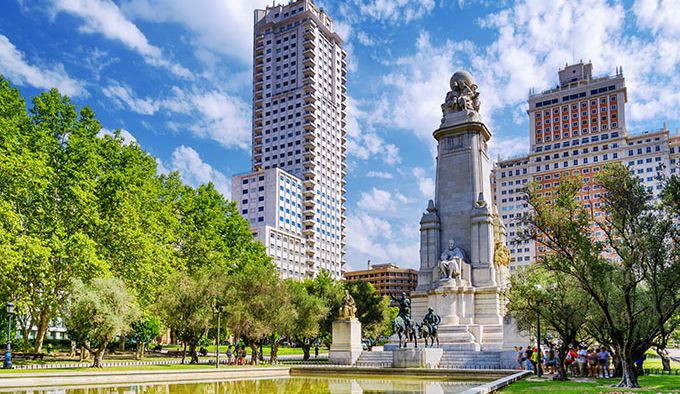 Casa de Campo
Casa de Campo is an amazing urban cycling destination, as the park is situated so close to the center of Madrid. The former royal hunting grounds extend to over 1750 hectares (6.8 sq mi) of forested, hilly terrain. This is so much more than a park: there is even a cable car which comfortably takes visitors to a lookout point over Madrid, as well as some challenging mountainbiking and hiking trails. They can get quite busy, so it's probably best to get some training in early in the day. But with a bull ranch, a lake and a zoo to visit, it is easy to spend a whole day here.
Featured routes around Casa de Campo
---
Madrid Río Park
Madrid Río is an attractive new park which follows the urban stretch of the Manzanares River. With lots of attractive bridges and landscaped gardens to ride across and around in, this development has added 30 km (19 miles) of accessible bike paths to the city. There are other activities you can indulge in here, too – tennis courts, soccer fields, rowing lanes, a climbing wall, a skate park and a bmx circuit. There is even an urban sand beach for a tanning siesta. We can't think of a better way of repurposing land recently won from moving a city highway underground.    
Featured routes around Madrid Río Park